The Earth's Healing Power
Grounding research indicates that the surface of planet Earth has potent painkilling, anti-inflammatory, antioxidant, and stress reducing properties. Nature's design.
The Earth is like a gigantic battery circling around the sun.
And pulsating throughout the surface of the planet is an unseen and virtually limitless reservoir of sub-atomic particles called electrons.   Constantly replenished and stimulated by the sun, lightning, and the deep-down molten core, they vibrate at different frequencies and give our landmasses and oceans a subtle negative charge.
The natural planetary charge keeps the bioelectric machinery of global life humming in rhythm and balance – for everything that lives on the land or in the sea.  Both animals and plants.  They have a constant electric connection with the Earth.
Except for most humans.
Over time, lifestyle changes have disconnected us. We rarely walk barefoot outside in order to freely receive the energy beneath our feet.  We no longer sleep on the Earth. We no longer use animal hides for footwear and bedding that allow the energy to pass into our body. These practices were part of ordinary living throughout virtually all of history. For decades now we have replaced traditional leather (made from hides) with synthetic soled shoes – like common running shoes made from plastic and rubber – that insulate us from the energy when we walk or run outside.  Many of us live and work high above the ground.
We have lost our electrical roots, so to speak, and this disconnection may be a grossly overlooked cause of chronic human illness steeply rising worldwide.
Research shows that being grounded benefits the body in many ways.  The evidence suggests that we need the Earth's electrons for our well-being.  They appear to be, in fact, foundational for health, representing an indispensable kind of "nutrient" that if deficient or missing can cause health problems just like a deficient vitamin or mineral.
Just as the sun above creates vitamin D in your body, Nature provides electric nutrition from the ground below to maintain natural order and healing within the bioelectrical circuitry of your body.
Also, the daily rhythm of chemical and hormonal cycling in the human body is regulated and maintained by faint electromagnetic signals generated by the Earth's electrons.  The human body is exquisitely receptive to these signals that set up the rhythm of day-night functions or circadian rhythms.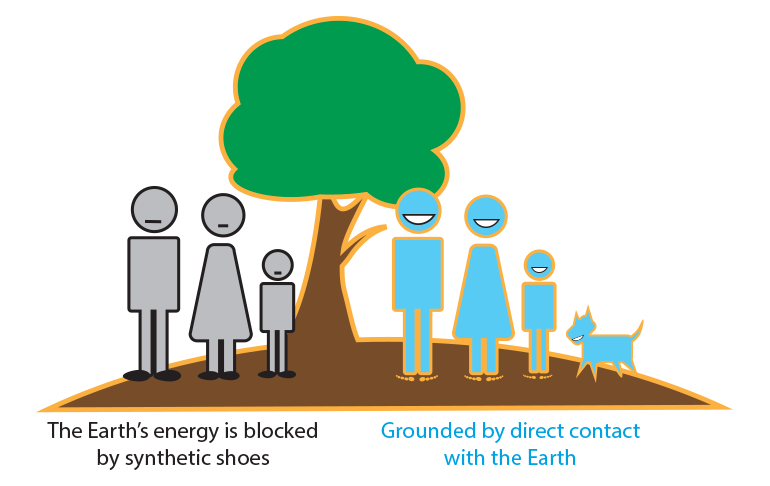 There's a good analogy here with the electric systems that power our world – from whole cities down to the appliances you use in your house. These systems are stabilized by the Earth, that is, when they are grounded and connected to the Earth. So, too, our bioelectric bodies become stabilized when we are grounded and connected to the Earth.  This is a vital hook-up. Our bodies work electrically. Every movement or thought is based on frequencies and electric transmissions in the body.  The heart, brain, and immune system are obvious examples.
One common experience that people have when grounded is a rapid and broad anti-inflammatory response.  And with it, a frequent lessening of pain and discomfort.
Nobody has ever regarded the planet before as an anti-inflammatory, but, amazingly, it appears to be the most powerful anti-inflammatory we have.  It's the original anti-inflammatory!  The original painkiller!
This effect has massive health implications because of the strong link between chronic inflammation and pain and virtually all chronic disease, including the diseases of aging, and the aging process itself.
For many people, the changes are quick and dramatic, like charging a failing battery. For others, the changes are gradual and subtle.
Two studies in 2014 and 2015, using sophisticated laser and thermal imaging, demonstrated how grounding, just for one hour, improves blood flow to the face. Such findings suggest enhanced nourishment of facial tissues and functions, and provides a scientific explanation for why many people over the years have told us they look younger and healthier after they start grounding.
Earthing is nothing really new. It's a revival of a timeless practice and a forgotten law of Nature: that we all belong to Nature, and part of the very connection with Nature is our connection with Mother Earth.
Earthing is among the most natural and safest things you can do.
It can be put to the test by simply sitting, standing, or walking with your bare feet on the ground outside.  If you have PMS or arthritic pain or a backache or indigestion or just plain fatigue, or feel highly stressed, note your level of discomfort at the start and then again after about a half-hour.
At the end you will feel better. You will suddenly realize that there is indeed something remarkable about the ground beneath your feet, something you've been missing all these years.
Remarkable healing power.
Systemic Benefits of Grounding on Health
Grounding impacts the body from top to bottom.  Individuals often report multiple benefits.  The list below is an informal collection of some of the many improved conditions reported from people around the world for nearly 20 years.  Below the list you will find a summary of grounding research.
Never before in history has there been an accumulation of information related to the surprising healing energy of the planet we live on.
Earthing Research Summary
Ongoing scientific research (summarized below) is slowly revealing the dynamics of why people feel significantly better when grounded, and why the benefits are so broad.   The numbers shown in brackets refer to the studies in which the evidence was found. The studies can be accessed in full on our research page.